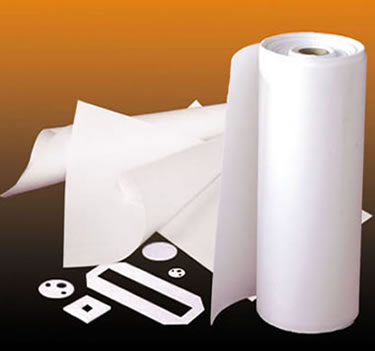 Ceramic Fiber Paper / Bio-Soluble Paper
Ceramic fiber paper or HP Ceramic fiber paper consists primarily of high purity alumino-silicate fiber and is made through a fiber washing process. This process controls the unwanted content to a very minimal level within the paper. KT ceramic fiber paper features light weight, structure uniformity and low thermal conductivity, which serve as a perfect solution for high temperature insulation, chemical corrosion resistance, and thermal shock resistance. Ceramic fiber paper can be used in various types of refractory and sealing applications and is available with a variety of thicknesses and temperature ratings.
New items - Bio-Soluble Blanket in 1", 1.5" and 2" thick. Bio Soluble fiber is another option of high temperature of insulation, compatible with ceramic fiber, it is environmental friendly and non-itchy to human skin. We have bio soluble blanket as well as bio soluble paper in stock now!
New items - Bio-soluble paper or soluble paper! Our bio-soluble paper is made with high purity bio-soluble, washed fiber mixing with organic binders. Bio-soluble paper or soluble paper is a highly flexible, efficient insulating or energy saving material. Bio-soluble paper or soluble paper is recommended for continuous use at temperatures as high as 1922°F and max temperature can be as high as 2192°F. Click here for detailed technical datasheet for bio-soluble paper
Call KT Refractories at 1-877-365-2995 to order Ceramic Fiber paper or bio-soluble paper today!