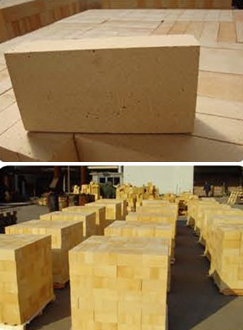 Fireclay Bricks
Fireclay Bricks or fire bricks are the most widely used refractory bricks because of its great features: low thermal conductivity, good thermal insulation performance; High resistance to Thermal shock, abrasion, chemical attack to provide long service life; easy operation and installation; broad usage or applications and low price etc. At KT Refractories we offer a comprehensive range of Fireclay brick/fire bricks consisting of 30-55% Alumina all of which exhibit excellent strength. For higher demand we offer a hard fired "Super duty" Fire clay-brick with a very high mechanical strength.
High density with low porosity fire clay bricks is our featured product in this category. Due to its low apparent porosity rate, high density with low porosity bricks have great features of strong resistance to erosion, high refractoriness under load, great Cold Crushing strength and high mechanical strength etc.
KT Refractories in Houston, TX distributes Fireclay Bricks at the best quality with the most competitive prices worldwide.
Call 1-877-365-2995 to order Fireclay Bricks and our fast, responsive customer service and reliable delivery service will save you both time and money!