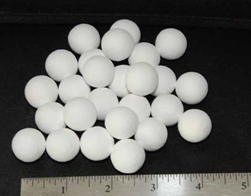 Tabular Alumina Balls
Tabular alumina balls are sintered alpha alumina with very high-purity ,are high-density, fully shrunk, coarse crystalline alpha aluminas. When the internal crystalline structure of tabular alumina is examined, large plate-like or tablet-like crystals are apparent. The shape of these crystals gives "tabular" alumina its name.

Tabular alumina is produced by sintering ball- formed calcined alumina at a very high temperature around 2040°C (3704°F), which is the fusion point of aluminium oxide. The alumina is form of pure aluminum oxide - because practically all porosity and shrinkage is removed under such high temperature. Essentially it is 100 percent alpha alumina (corundum).

These tabular alumina balls are then crushed, graded or screened, and ground to a wide range of granular or powdered particle-size distributions. Tabular Alumina can be in appearance of white crystalline granules or powder. Depending on requirements, ball sizes are produced from 1/8 to 1 inch (tolerance ± 1 mm)
Application for Tabular Alumina Balls:
ideal in applications such as inert catalyst bed supports
regenerative burner bed applications
deep bed molten aluminium filtration
Heat exchange media
are suitable as catalyst reactor
desiccant bed supports
or for ballast under exposure to high temperature
severe corrosive conditions
Benefits of tabular alumina balls
Tabular alumina balls are long lasting, smooth, good thermal shock properties and very good resistance to the mechanical and abrasive actions found in catalyst support systems, high chemical purity, do not produce fines and dust to contaminate the product stream, and are unaffected by either oxidizing or reducing atmospheres at temperatures well below the softening point.

Contact KT refractories for Tabular Alumina, Tabular Alumina Balls or other refractory raw material to save you both time and money!

Call us at 1-877-365-2995 or email us at ConsumerService@KTRefractories.com for your refractory raw material, chemical additives or minerals need!
Tabular Alumina Balls Data Sheet:
All information in this data sheet is based on indications of the producer and on current knowledge. All information in this data sheet does not represent any guarantee.
Chemical Analysis %

Al2O3

min.

99.30

Fe2O3

max.

0.10

SiO2

max.

0.20

Na2O

max.

0.40

TiO2

traces

B.D.

Apparent Porosity

min.

max.

3.54 g/cm³ (uncrushed material)

5.00

Water absorption

max.

1.50
Standard sizes: ½" - ¼", ¼" -8, 3-6, 6-10, 6-14, 8-14, 14-28, 28-48, -14, -28, -48, -100, -325 mesh
5-10, 2-5, 3-6, 2-3, 1-3, 1-2, 0.5-1, 0.2-0.6, 0-1, 0-0.5, 0-0.3, 0-0.2, 0-0.045 mm
Other sizes available per customer's requirement.
Packing: 25 kg/bag or 1 MT/bag