Alumina Bubble
Alumina Bubble, bubble alumina is an electric arc furnace product made from high purity alumina. The product chemistry is similar to that of white aluminum oxide. Alumina bubbles are formed from molten alumina, resulting in hollow spheres of low bulk density, and high insulating property.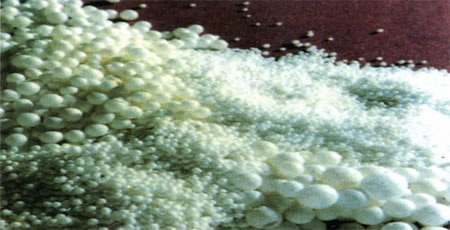 Bubble alumina is used in the production of lightweight insulating refractories where low thermal conductivity and high temperature properties are the prime requirements. Alumina Bubble is also used effectively for loose-fill refractories, i.e. low density, high insulation refractory castable, or concrete, or ceramic bodies useful in a range of applications with temperatures up to 1800°C (3272°F).
Contact KT refractories for Alumina Bubble, Bubble Alumina, or other refractory raw material because we save you time and money!
Call us at 1-877-365-2995 or email us at ConsumerService@KTRefractories.com for your refractory raw material, chemical additives or minerals need!
Alumina Bubble Data Sheet:
Index

Properties

Guaranteed value
Typical value
Chemical composition (%)
Al2O3
≥98.5
99.48
Packing density (g/cm3)
0.5-1.0
0.74
Damaged rate (%)
≤15
12
Refractoriness (°C)
1800
Particle size
diameter 5-0.2mm
Test standard
GB/T3044-89
Packing
20 kg/plastic bag (Damp proof)
Usage
Insulating