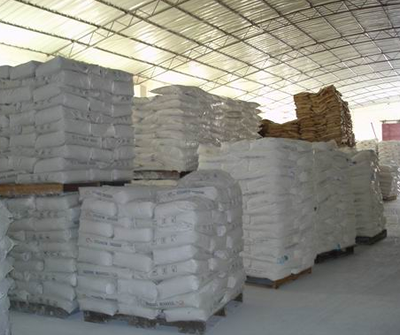 Castable Refractories
Castable Refractories, Castables, or refractory concretes are predominantly dry, granular refractory mixes designed to be mixed on site with water and capable of curing to a stable dimensional form through hydraulic or chemical setting.

Castable refractories are particularly suited to the molding of special shapes and parts at the installation site. Castables can be used for forming complete furnace linings and other unique shapes. They can be applied by pouring, pumping, troweling, gunning, and shotcreting.

Catstables have the advantage of being readily usable at the operating temperature of the equipment after hydraulic or chemical setting and removal of all moisture has taken place.

Recently, a new form of Castable and new method of installation have been developed -- Self-flowing Castable, which may be poured with or without vibration and may be pumped, rammed, or troweled into place.

KT Refractories distributes all kinds of Castable Refractories and other refractory products of the best quality at the most competitive prices worldwide. We can produce Castable refractories according to your specifications and requirements. Our typical castables include but are not limited to:

Al2O3-SiC-C Iron Channel Refractory
Alkali-resistant Castable Refractory
Anti-skin Castable Refractory for Preheater
Corundum Spinel Castable Refractory
High Alumina Self-flow Castable Refractory
High-purity Alumina-chrome Castable Refractory
High-purity Corundum Castable Refractory
High Strength Corundum Castable Refractory
High strength, High Alumina Castable Refractory
Lightweight Insulating Castable Refractory
Mullite Castable Refractory
Steel Ladle Castable Refractory

Some additional castables' datasheets are listed, please contact us for more info:

AZS Castable Refractory
Calcium Aluminate Cement Refractory
Corundum Castable Refractory
Corundum Low cement Castable Refractory
Corundum Self-flowing Castable Refractory
Fireclay Castable Refractory
High Alumina Low Cement Castable Refractory
Light weight fireclay Castable
Mullite Low Cement Castable Refractory, view datasheet in the KT Refractories Castable Manual
Mullite Self-flowing Castable Refractory
Zircon Castable Refractory
Zircon-mullite Castable Refractory
Zircon-Mullite Ramming Mix Refractory
Self-flowing Castables Refractory
High Alumina Self-Flowing Castable, view datasheet in the KT Refractories Castable Manual
Mullite Self-Flowing Castable
Corundum Self-Flowing Castable
Insulating Self-Flowing Castable

Call 1-877-365-2995 to request or order Castable Refractories and other refractory products!