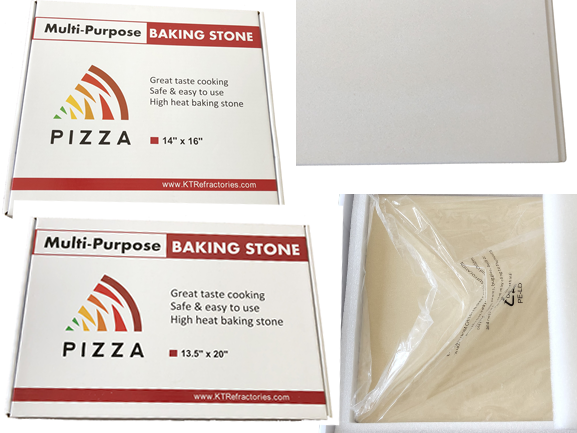 MULTI-PURPOSE BAKING PIZZA STONE
INSTRUCTIONS:

1) The baking stone is durable, safe for ovens & grills.
2) For oven use, make sure baking stone is the right size for your oven.
3) For grill use, once your fuel is ready, place pizza/food directly on baking stone surface, place the baking stone inside the roast rack, and ensure it is stable on the grill.
4) Heat up your baking stone for a minimum of 15 minutes.

CLEANING AND MAINTENANCE:

1) After cooking, ensure baking stone has cooled down properly before handling.
2) If you have to handle a hot baking stone, ensure proper oven gloves are used.
3) Do not submerge your baking stone in water.
4) Do not clean with soap or chemicals.
5) Remove all loose bits of food or residue by scraping off with a brush or plastic spatula.
6) Use a damp cloth to wipe off the surface.
7) Dry completely before cooking with baking stone.

TIPS:

Dust the surface of the baking stone with a fine layer of cornmeal, polenta, or semolina before use as this will help prevent food from sticking. Baking stone is made out of material which can easily chip, always handle with care. Never expose baking stone to opposing heat extremities.

Call KT Refractories at 1-877-365-2995 to order MULTI-PURPOSE BAKING PIZZA STONE or buy online!